Students for an Orwellian Society
Because 2020 is 36 years too late.
What is SOS?
Students for an Orwellian Society (SOS) is a nationwide student group. Although SOS has always been a nationwide student group, there is evidence to suggest that it first appeared at Columbia University. The mission of SOS is to promote the vision of a society based upon the principles of Ingsoc, first articulated by George Orwell in his prophetic novel, 1984.
As an Oceania-wide organization, SOS has a number of local chapters. For a partial listing, see our contact section.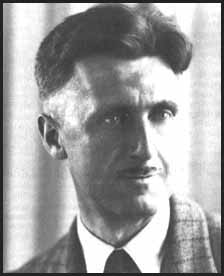 George Orwell
Doubleplusgood Book Collection Activity
Students for an Orwellian Society is proud to co-sponsor a book collection activity wherein copies of the prophetic novel 1984 will be sent to members of the U.S. House and Senate who voted for the plusgood bill, the Military Commissions Act. This offers the Innner Party members a token of our thanks for their good work and guidance for their future activities. The Ministry of Love is organizing the project.
Successes
As to be expected, SOS has been quite successful. Since the events of 11 September, we have been able to convince a number of figures in national and local politics to help forward our aims. How could they do otherwise?
Our successes can be shown to fit into the three major ideals of Ingsoc as expressed by Orwell:
War Is Peace
Oceania (commonly called the US and Britain) is at war with Afghanistan Iraq. Oceania has always been at war with Afghanistan Iraq.
Eurasia (commonly called Russia, Pakistan, etc.) is allied with Oceania in war against Afghanistan. Eurasia has always been allied with Oceania.
US Congressman Charlie Rangel has been arguing for a return of military conscription ("The Draft") as—so he tells the public— a way of reducing war.
It's not easy to capture someone killed the year before—until you harness the power of Ingsoc. When you've got Ingsoc on your side, though, it's so easy that the US did it again.
Three cheers for Homeland Security drone patrols!
In order to fight terrorism, we must cause it, says Donald Rumsfeld.
It's okay that there were no "weapons of mass destruction" in Iraq; that's not why we went to war. It's equally okay that there are so many of them in Oceania.
The Nobel prize committee has been considering nominating George Bush and Tony Blair for their prestigious Peace prize.
Just like in 1984's Room 101, the Miniluv operations in Guantánamo Bay were authorized to "exploit[] a prisoner's phobias, sometimes using muzzled dogs in interrogations." Doubleplusgood!
According to the Bush administration, the Duelfer report which conclusively showed that there were no weapons of mass destruction in Iraq actually justifies the war in Iraq.
"I just want you to know that, when we talk about war, we're really talking about peace." — George W. Bush, 43rd President of the United States
"Protecting [an] Islamic cultural center" involves fighting a war inside it, as the New York Times on the Web shows.
Freedom Is Slavery
Ignorance Is Strength
Failures
Any reports of failure are almost certainly lies, the work of thoughtcriminals. Kindly ignore them. SOS does not fail.
T-Shirt Design Contest
We're considering printing SOS T-Shirts. Please email Minitrue with your designs. If we like one of them enough to print up a bunch, we'll send the artist a free shirt or two, as well as some other incentives if we come up with any. We're more inclined to print designs that use a small number of colors (one or two). The rules and entries thus far have been posted.
Posters
It is the duty of all citizens to print out 300 posters weekly and place them around campus. We may be monitoring you at any time. For your convenience, we provide posters here. You need Acrobat Reader, version 5.0 or later, to view them. This product is made by Adobe, a company which we greatly admire.
The folks at SOS-Davis have well over 100 different posters if you like.
Flyer
SOS is pleased to present a special flyer about ROTC, the Reserve Officer Training Corps and a truly Orwellian organization. We know you find it useful.
News Service
The SOS chapter at Berkeley has constructed a goodspeak news service which will "translate news pages about the present peace conflict in Eurasia into standard, Ministry of Truth-approved goodspeak". You can also view the goodspeak versions of The International Herald-Tribune, CNN, or FOX News.
Sticker
Sticker production is up 300% for the year.
Events
The Empty Space Theatre in Seattle and the Catalyst Theatre Company in Washington, DC held productions of 1984. Both productions started in late January, 2004, and continued through the end of February. While not directly sponsored by SOS, these productions will help spread the word about Ingsoc, and for this, we salute them.
Similarly, The Orwell Project is presented performances of 1984 and Animal Farm in February and early March at the Connelly Theater in New York City. Party members who attended a performance highly recommend it.
The 1984 + 20 Project organized public readings of 1984 on April 4, 2004. See their website for more information.
The National Council of Teachers of English is sponsoring a similarly-named but otherwise unrelated event called 1984+20, in which students will relate the issues raised in Orwell's work to the modern world.
Contact Us
We already know what you're thinking. There's no use hiding. To report incidents of aberrant behavior or thought among your classmates, please email miniluv@studentsfororwell.org. Also, our group is so successful that sometimes we miss reports of our own success. If you find one, please email minitrue@studentsfororwell.org. If our other ministries wish to hear from you, they will contact you directly.
For local contacts, the MSCD, UC-Davis, and SUNY Stony Brook chapters have their own web sites.
SOS chapters are also active at Columbia, Oberlin, Penn State, NYU, UMass, Minuteman High School, FSC, CalTech, UVA, RIT, Murray, JHU, UC-Berkeley, MSCD, SUNY-Stony Brook, UC-Davis, Bellevue CC, Trinity Chrisitan Academy, St. John's College, BSSC, Brandeis, Hopkins High, YIHS, and a number of other schools. However, while we of course have a complete list of schools available, we do not list them here until we are contacted with information of their existence.
---

Copyright © 2001–2020 by the Students for an Orwellian Society Ministry of Truth.